Sprinkles
PICKERD Sprinkles: Creativity knows no limits!
With our wide range of decorating products, there are virtually no limits to your imagination when adorning your baked creations. Popular and loved for generations, with their unique variety of shapes, colours and flavours our PICKERD sprinkles are the right decoration for every occasion. Whether it's multicoloured sugar sprinkles, charming sugar unicorns or tasty mini-biscuits, we have something for everyone! We keep a special attention on details like shape and colour to ensure a premium quality product. Our sprinkles bring fantasy to life on cakes, tarts and pastries and are quick and easy to use. Also Ice cream and desserts can be transformed into colourful delicacies within seconds!
Bake 'n' Style
PICKERD Bake 'n' Style: Create your cake with Style!
The PICKERD Bake 'n' Style product line offers everything you need to bake and decorate elaborate fondant tarts, magical cupcakes, crazy cake pops or colourful rainbow cakes. Along with vivid food colourings, you'll find colourful fondant, lovingly handmade sugar toppers and easy-to-use writing icing to add 'that certain something' to all of your baking.
World of flavours
PICKERD's World of flavourings: Tasty – but natural!
With our PICKERD organic flavour products, you can easily turn your favourite dessert into a healthy and aromatic indulgence that's low in sugar. The PICKERD world of flavours includes a broad mix of vanilla, cinnamon and popular fruits – ideal for enhancing baked goods, cereals, smoothie bowls, shakes, ice cream or yoghurt.
Dekor Natur
PICKERD's range Dekor Natur: Natural decorating without added sugar!
100% natural products for 100% natural pleasure! With our PICKERD Dekor Natur products, you can decorate your baked goods with zero added sugar*. Our Dekor Natur fruits are gently freeze-dried so they largely retain their essential nutrients. Bake them into your creations, decorate with them, or use them to enhance cereals, muesli, yoghurt, desserts or bowl dishes.
*Contains naturally occurring sugar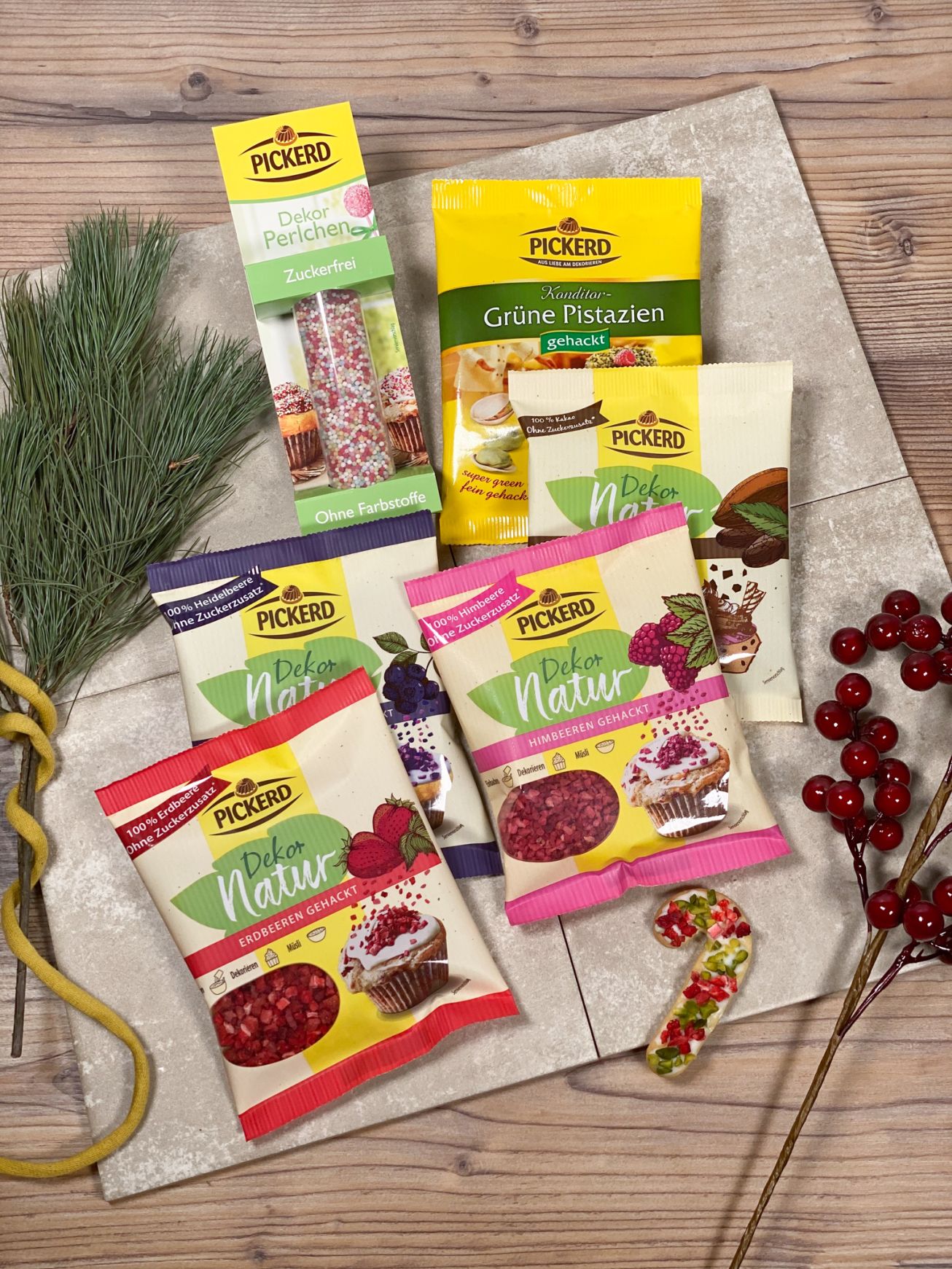 Specialities
PICKERD's specialities: Perfect match for special demands!
PICKERD specialities include everything you need to bake cakes, tarts and more. With PICKERD specialities, you can bake and decorate to a professional standard, even at home. Because sometimes it simply has to be something special! PICKERD cake fillings, nougat and marzipan are easy to work with and have a wide range of uses.
Almonds & nuts
Bakery's finest classics: PICKERD almonds and nuts
Almonds, nuts and pistachios can be found in many traditional recipes, either as ingredients or as decoration. PICKERD uses fresh products and especially gentle processing methods for top confectioner-quality results. Our PICKERD nuts come from the best growing areas and are processed while still fresh, using especially gentle methods for perfect results. Here you can find classic premium nuts and exceptional nut specialities like our salted caramel hazelnut brittle.
Cake Icings
PICKERD cake icings: the highlight of lovingly crafted baked creations!
Use our PICKERD cake icings for the crowning finish of your baked creations. A popular favourite for generations: our PICKERD cake icings in the unmistakeable Gugelhupf mould invented by Heinrich Pickerd in 1950. Deliciously chocolatey, sour-fruity or classic vanilla: our cake icings are literally the icing on the cake! Discover our enormous and unique selection now.